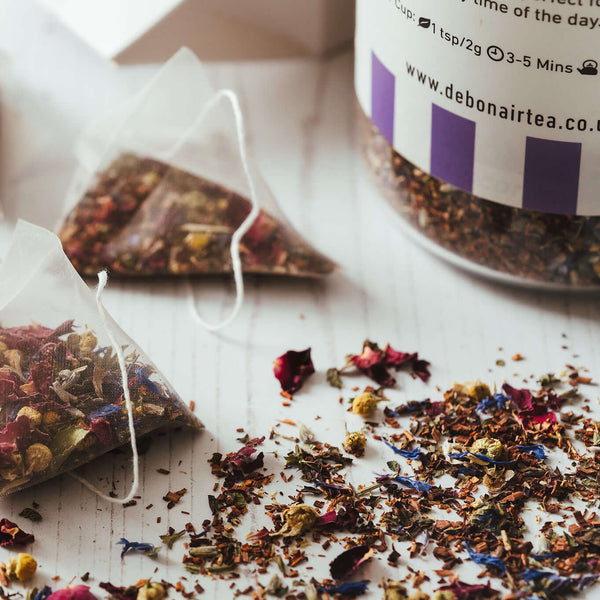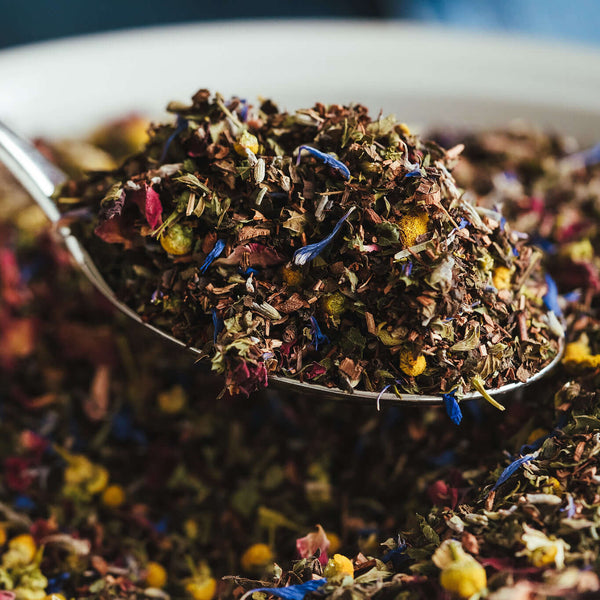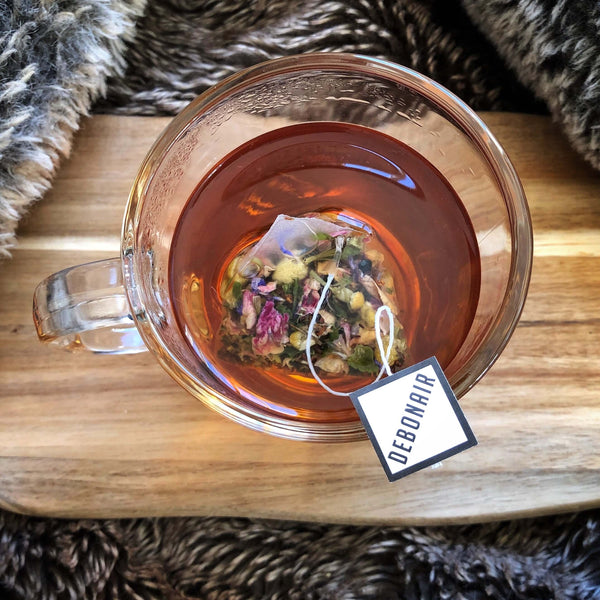 Also available in biodegradable pyramid bags.
A herbal blend of honeybush, chamomile, lavender, lemon balm and rose petals which combine to create a beautifully relaxing cup. 
Packed with ingredients known to have either a sedative effect or relax the body, this blend has garnered a loyal following:
Honeybush's soothing qualities are believed to help relieve depression, anxiety and have even been used as a treatment for colicky infants.
Chamomile has been used for centuries to treat insomnia, stress, anxiety, and upset stomachs. 
Lavender in tea reduces stress and anxiety and might have stronger effects in women than men according to some studies.
Lemon Balm is a member of the mint family with a minty yet lemony taste. It is believed to interact with the GABA receptors in your brain, the activation of which reduces stress and aids sleep. For best results, it's advisable that lemon balm should be combined with other herbs, as found in this blend.
Rose Petals brewed as tea were reported in the Iranian Journal of Basic Medical Sciences to work in the nervous system to produce a mild hypnotic effect and can help to induce sleep in a way comparable to medications such as Valium.
PREPARATION
Steep 1tsp per cup for 3-5 mins in 100°C water. Enjoy without milk.
TEA-RIVIA
Lavender derives its name from the Latin 'lavare' meaning 'to wash'. The Romans used Lavender to scent their baths, beds, clothes and hair. They also discovered its medicinal properties.
INGREDIENTS
Honeybush, rooibos, chamomile, lemon balm, rose petals, lavender and blue cornflowers.
ALLERGEN WARNING
May contain traces of cereals, almonds, hazelnuts, milk, soya, mustard and sulphur dioxide.
Delivery Information & Charges
UK Deliveries*
UK delivery costs are as follows:
Royal Mail 24:
£0.00 - £30.00 = £3.70
£30.01 - £49.99 = £5.50
Royal Mail 48:
£0.00 - £50.00 = £3.00
All orders over £50.00 = Sent tracked via UPS, free of charge.
Please note all orders using free delivery promotions are sent Royal Mail 48.
International Shipping
Due to the impact of customs changes since leaving the EU, we have recently updated our shipping options to offer a tracked service. Please note, some locations are experiencing customs delays that are out of our control so delivery times may vary.

Europe-wide Deliveries:
£0.00 - £25.00  =  £12.00
£25.01 - £50.00 = £15.00
£50.00 and over = £20.00
Rest of the World:
£0.00 - £20.00 = £12.50
£20.01 - £50.00 = £20.00
£50.00 and over = £25.00